HOLY MACKERAL!
Shaun's parents run a small hobby farm, raising beef cattle. Virtually everyone with land here in Gippsland raises either Beef or dairy cattle. The scenery is beautiful. Ahhh that reminds me. I will dig up a picture to put across the top of this page. The cattle in the fog...

It's the time of year when they buy the calves. A couple days ago, they brought home two from the auction yards. I got to feed them with a huge baby bottle. When I brought LA there a couple days later, we didn't get the chance to feed them because they were getting over a stomach upset, but we did get to pat them. You can see a full 1mb movie of Leslie Anne with the cattle, here.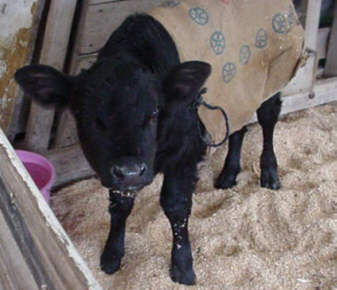 HOLY MACKERAL
You aren't supposed to name the animals. It makes it too hard in the end, when they get shipped off to the slaughter houses. I named them Holy Cow and Mackeral. I think we might have to buy the animals from the inlaws in two years' time. Ricky looks at all the animals as "Lunch in the Pasture". It is probably better to have that attitude because we can't afford to save them all.

Look at their faces though. These are the faces similar to those in England that were brutalized by disease and decision. When we are out bike riding, passing farm after farm of grazing cattle, I moo at them and they moo back. Picturing England's devastation visited upon AUstralia's countryside, I am horrified and hopeful that the Australian quarantine department never lets down their guard.